17th November 1855
Horticultural painter William Caparne was born
William Caparne, who only added the final "e" to his name in the second half of his life, was a renowned painter of flowers and landscapes. Some of his work is in the hands of the Guernsey Museum and Art Gallery.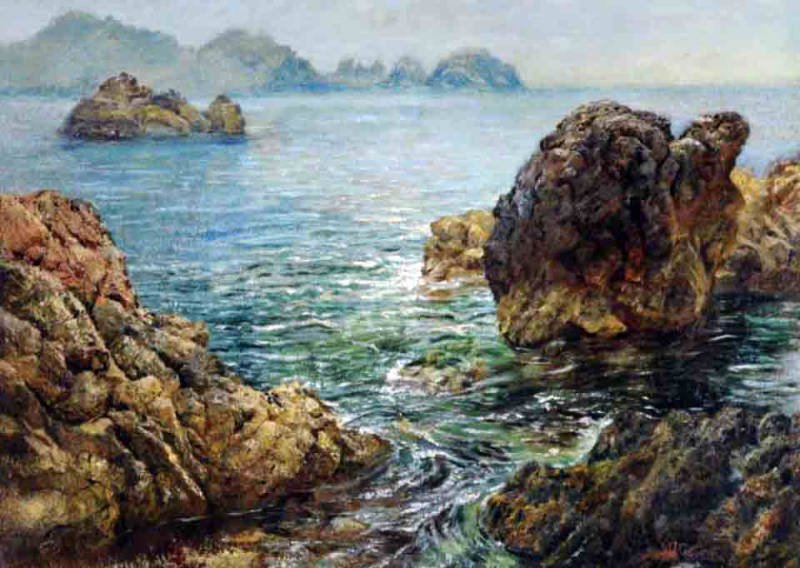 Born in Newark-on-Trent, Nottinghamshire, to an iris-growing organist. He had two other close relatives who were seed dealers. No doubt these relatives' interests had a bearing on his later life.
As an horticulturist, Caparne created more than 100 varieties of hybrid irises. He started his cultivation experiments in his own greenhouse at his home in Oundle and would paint them as they grew.
Caparne the painter
Caparne showed a flair for art from a very early age and by 16 was teaching in an art school. By 21 he was the art master of a Northamptonshire school.
Caparne moved to Guernsey in 1896, two years after his wife's death, and set up his studio in an old tramcar next to his cottage in Bon Port. He painted there for the next 44 years and died within the first couple of years of the occupation. He had lost his eyesight three years before he died.
Throughout his time in Guernsey he painted some of the most remarkable floral pictures of the time, while also establishing a garden of irises and various heat-loving plants, including cacti.
FREE Guernsey history newsletter
Don't miss our weekly update on Guernsey's fascinating history. We promise never to sell your data to anyone else, and there's a super-easy unsubscribe link on the bottom of each email so you can leave whenever you want.
Other events that occured in November