7th July 1914
Victor Hugo statue is unveiled in Candie Gardens
A larger-than-life statue of author Victor Hugo has stood in St Peter Port's Candie Gardens since 1914.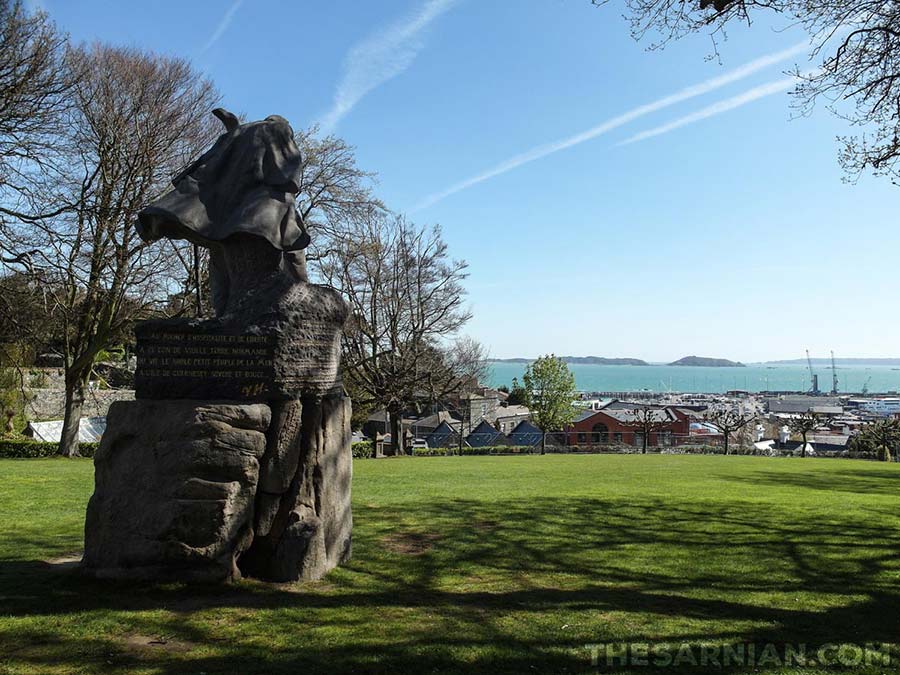 With an enviable view of Little Russell, the limestone likeness was carved by French sculptor Jean Boucher between 1906 and 1913. It is mounted on a granite plinth cut from the quarry at L'Ancresse. The base is inscribed on its east and west sides. While most of the inscriptions deal with its construction and unveiling, one recreates the dedication from the front of Hugo's Guernsey-set book, Toilers of the Sea:
To the rock of hospitality and liberty, to that portion of old Norman ground inhabited by the noble little nation of the sea. To the island of Guernsey, severe yet gentle…
Boucher had originally sold the work to the French government for 30,000 francs. The government presented it to Guernsey, Hugo's home for 15 years during his exile from Napoleon's France.
A change of plan
It hadn't originally been carved with Guernsey in mind, but Lisbon, on the instructions of the King of Portugal. However, the original commission was cancelled, but only once it was too late for the work to be called off. This is fortunate as the statue would otherwise not have ended up in Guernsey.
The three-metre-tall bust, weighing almost a ton, was shipped from France by train and boat, then dragged up to Candie Gardens on a gun carriage almost a month before the unveiling. It was covered in cloth to prevent anyone from having a preview and guarded day and night until the morning of 7th July. At that point, delegations from Britain and France met for the unveiling in the presence of more than 1000 spectators.
There were markets and entertainment and, in the evening, a firework display over the harbour. If the statue had had sight, it would probably have had the best view on the island.
The statue underwent a thourough cleaning in 2014 to mark its centenary.
Hugo lived on Guernsey, at Hauteville House, between 1856 and 1870. He died in France in 1885.
FREE Guernsey history newsletter
Don't miss our weekly update on Guernsey's fascinating history. We promise never to sell your data to anyone else, and there's a super-easy unsubscribe link on the bottom of each email so you can leave whenever you want.
Other events that occured in July